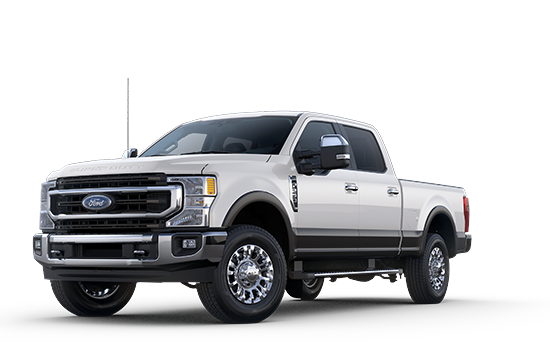 Ford Superduty Lease Deals near Mobile, AL
Ford Motor Company has been making capable pickup trucks that suit any American lifestyle since the late 1940s. Its F-Series pickup trucks have been some of the most popular vehicles in the country for quite some time now. Of course, as time has moved forward, Ford's engineers have had to come up with pickups equipped to handle modern workloads. That is why Ford came out with the Superduty line of trucks. These trucks sit on a heavier chassis than the F-150, and in their most powerful iterations, they have payloads of more than 5,000 pounds and towing capacities of more than 20,000 pounds. It is possible you have heard this lineup by its other names; the Superduty lineup consists of the F-250, F-350, F-450, F-550, and F-600.
If you are in the market for a pickup that can handle your heavy-duty lifestyle, you should lease a Ford Superduty truck from Chatom Ford near Mobile, AL. By leasing a Superduty from our dealership, you are sourcing your truck from one of the most reliable dealers in the Mobile area. We offer competitive pricing and routinely inspect all of our vehicles to ensure that our customers are getting only the best quality.
Benefits of Leasing a Ford Superduty
If you are not familiar, a lease is a short-term contract that has you driving a new vehicle in exchange for a monthly payment. When your lease terms expire, you return the vehicle and are free to lease a new one. There are many benefits to leasing that make it a truly intuitive way to pay for your Ford Superduty. We offer spectacular lease deals at Chatom Ford because they save you money, provide a lower-commitment way of paying for a vehicle, and allow you to upgrade your vehicle with much greater ease in the future.
When you lease a Ford Superduty, or any vehicle, from Chatom Ford near Mobile, AL, you typically save money over a traditional purchase. The monthly payments on a lease are lower than those on a car loan, and you are off-the-hook for sales tax since it is not technically a purchase. With all the money you save, you will find maintaining a truck to be much easier.
Leases are also much shorter term than purchasing. When your lease expires, you just return the truck. This can be useful if you know you will only need the Superduty for a short period, like if you have a specific project or you are just in the area for a few years. At the end of your lease, returning the truck to the dealership is a simple process.
When you purchase a truck and it is time to upgrade, things can be inconvenient. For one thing, the truck depreciates in value every day you own it, regardless of whether you drive it. Also, vehicles often require a ton of work to prepare them for selling. With a lease, you just bring the Superduty back to Chatom Ford, and we will take care of what to do with it next. Then, you get to upgrade to the newest version of the Superduty or a different model. That means you can consistently upgrade your vehicle and stay on top of motor trends.
Get a Great Lease on the Superduty near Mobile, AL
Once you have looked at our inventory of Ford Superduty pickups, call us at Chatom Ford. Our associates will answer any questions you have about our vehicles and leasing. We are also conveniently located if talking in-person is more your style. Come in, say hi, and test-drive your next Superduty.